Axe Hanging & Round Pen Build
August 3-11, 2019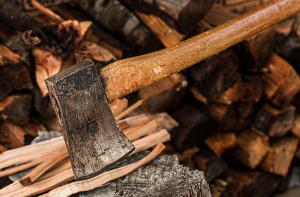 This wilderness homestead workshop is geared towards those that want an active, learning vacation.  This trip is for people who want to experience a place for a length of time and develop a sense of the place.  The idea is to depart not only with a day to day understanding of life on the homestead, but with a complete suite of skills to repair, maintain and use an axe.  Not only will you climb into the bush plane to leave with new found skills, but you will leave with a restored, customized and functional axe of your own.  Participants can bring their own favorite axe, old axe, axe head or have one of our axes from our collection. A smaller axe useful for limbing and notching will be preferred for the round corral building project.  However, you are welcome to bring whatever axe you'd like to restore.
After learning how to properly dehandle,rehandle and sharpen and axe we will put those axes to work limbing, smoothing and notching logs and poles for a round corral for our Icelandic horses.  Participants will have a significant amount of time with close supervision to refine techniques that will create a foundation for most types of woodcraft.    Working in the deep wilderness will demand your utmost attention and care; the work you do with your axe will have real consequences for our livestock.  Time not spent on the corral project will be spent hiking, riding, fishing, around campfires and eating hearty, creative meals.  This is a great trip for those who wish to experience true, remote, roadless Alaska and improve their wilderness skills.
Itinerary:
August 3: Travel day from Anchorage. Fly into the homestead. Settle into your rustic wall tent, your accommodations during your stay. Meet the animals, take a welcome tour of the facilities, garden, and property.  Enjoy a welcome dinner around the campfire.
August 4:  After Breakfast we'll look over the axes and handles and talk about axe theory and materials.  From there we will dive right into to prepping the axes for new heads and shaping the handles to fit.  Once the handles are on we can go into proper axe and tool sharpening with file and stone.  By the end of the day we should each have a functional, sharp, like new axe ready for work.  Since the days are endless this time of year there is plenty of time to explore or cast a line in one of the creeks bordering the homestead.  Expect nightly campfires and hearty meals.
August 5: Day three starts off with a focus on safely using your new axe.  Using an axe is one of the most dangerous things you can do, it requires constant, meditative focus.  The intensity of the focus required and consequence inherent in each swing is certainly what gives axe work its appeal.  We'll work on developing accuracy and stance as we close-limb and smooth poles and logs for the round corral.  Later in the day we will lay out the corral and finalize the materials to begin construction.
August 6: We will continue limbing, smoothing and stacking walls while learning about other hand tools include the drawknife, various types of hand saws and layout tools.  As the walls rise we will continually check for sharp splinters or knots, which could injure a running horse.  As always there will be time to explore the countryside and fish the creeks in the evening, as long as you have a valid fishing license.
August 7: the process continues, but the end is in sight.  Using your tool should be second nature by now and so should the sharpening process.  Around this time visitors really begin to sink into the serene timelessness of remote Alaska in the summer.  The sounds of axe work, the rooster crowing, birds chirping, creeks flowing and of course the ever welcome dinner bell mark the days.
August 8:  should find us building and hanging the gate.  The gate will require the most careful work of the entire project.  If time allows we will discuss marking, mortising and chisel work.  As a moving part that is only supported on one side, yet has to resist a thousand pound animal, gate quality is critical.  As always there will be ample evening or early morning hours to explore your surroundings.
August 9:  Those interested can hike to the high country grazing meadows in the foothills and catch the horses.  Those who feel like a break can always kick back in one of our deck chairs and enjoy the view or find other small projects that interest them to stay busy.  When the horses make it back to the homestead in the afternoon we'll introduce them to their new corral and make plans for a ride into the hills the next day.
Optional hike: 6-8 miles and 1500 foot elevation gain.
August 10:  We will make a day ride up into the foot hills to enjoy expansive Mountain View's and ample wildlife viewing opportunities.  Please note that the maximum rider body weight is 200lbs.  Those wishing to hangout at the homestead are more than welcome to do so.  Plan on a special last night dinner and campfire.
August 11:  Farewell Breakfast. Fly back to Anchorage. Continue your Alaskan vacation, or head home with new knowledge and friends.
Workshop Price: $3800, $500 deposit
Includes: Instruction in Axe hanging & use, leather gloves, new tool to take home as a souvenir, guided hikes and rides, all meals & snacks, lodging while at the homestead, transportation to and from the homestead.