Workshops & Events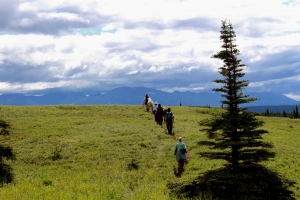 ABC: Adventures with Blueberries and Caribou  August 25-31
Join us for blueberry picking under the gaze of the Alaska Range. This time of year, wildlife are on the move! Bring your binoculars for glassing for charismatic caribou. Learn about the habits of our Northern fauna and wild plants. Bring your berries back to the homestead. Make your own blueberry jam and liqueurs to bring home.
Internships
We have heard the requests, and are now offering month-long internships at the Homestead. Interns learn about all aspects of homestead life: from gardening, construction, animal care, and food. All interns are welcome to take part in events and workshops we have on the homestead, and are expected to take ownership of one project of their choosing. Must be self-starters with wilderness experience. WFR preferred.
Contact us for more information.
Cost: $1500 for one month of lodging, food, and transportation.